Step into a French Fairytale – Colmar & Haut-Kœnigsbourg
Colmar is the very definition of a fairytale town. Its charm and beauty have inspired scenes in fairytale movies and stories, like Disney's Beauty and Beast and Snow White. As you walk through the city, you can really feel as if you've stepped back in time. Come learn more about this beautiful city with us!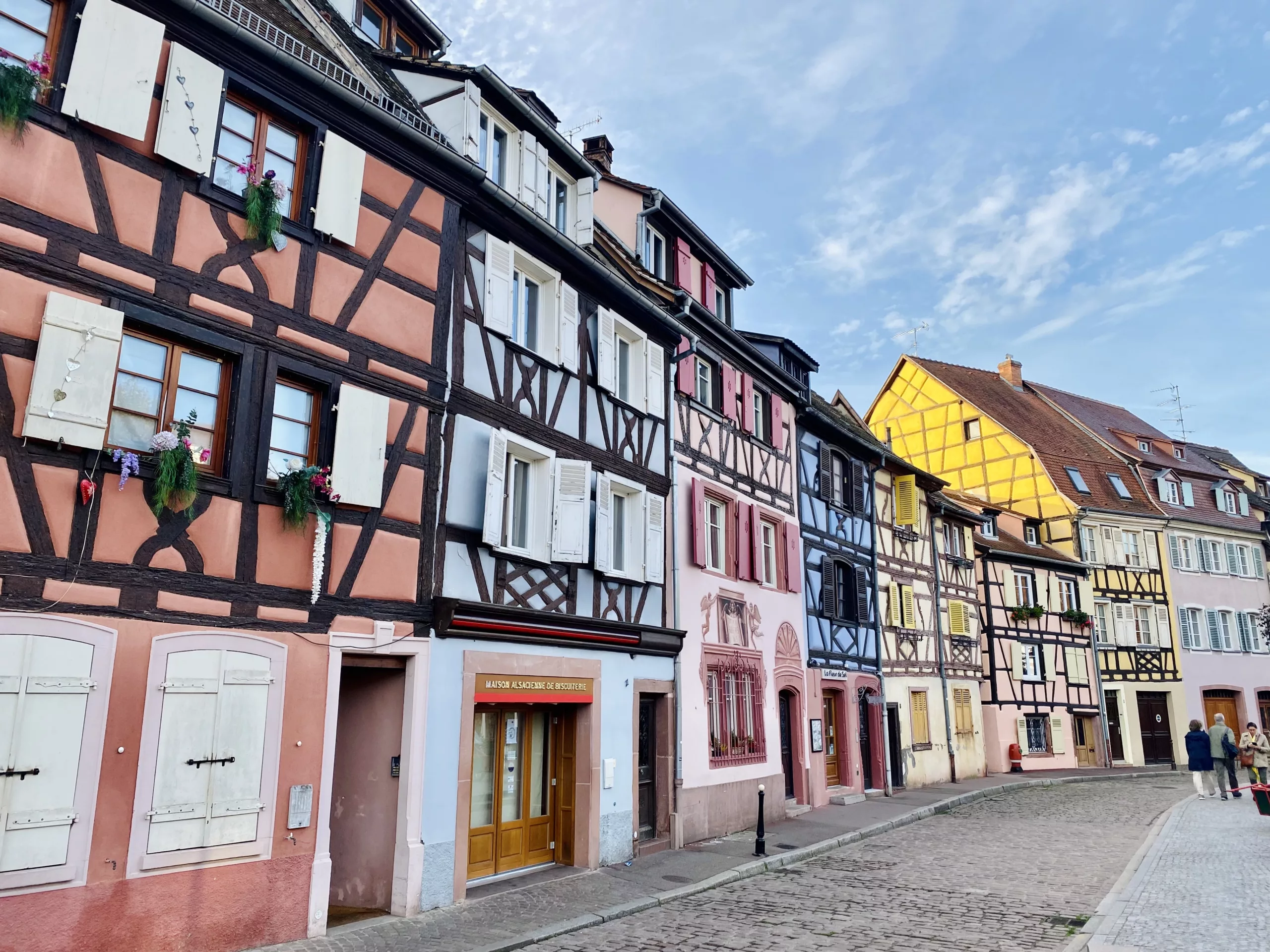 Step into a French Fairytale!
In our video, we share much more than just the pretty Alsatian renaissance architecture – we share Colmar's rich and tumultuous history and how it went back and forth between France, Germany, and even Sweden.
We also try some very traditional Alsacian foods, like Tarte Flambée (Flammenkuchen), Escargot, Baekoeffe, and Bikalakas.
We also visit the magnificent castle, Haut-Kœnigsbourg (Hochkönigsburg), which really sparked the imaginations of our boys.
Colmar's Tumultuous History isn't Like a Fairytale
The first mention of Colmar is in a chronicle of the Saxon wars of Charlemagne, emperor of the West (800–814). In 1226 Colmar was raised to the status of an imperial town by the Holy Roman emperor Frederick II and was surrounded by defensive walls. Civil rights were granted to it by Rudolf of Habsburg in 1278. 
The 15th and 16th centuries were it's "Golden Age" when it found wealth thanks to its merchants, agriculture, and wine making. Today you can enjoy wine tastings and visit many wineries around the town.
Today Colmar is a wine-trading centre and tourism attraction. When visiting, make sure to try some wine from the region and try their famous Tarté Flambée.
Colmar Traded Hands Many Times
800 – 1278 – Part of the Holy Roman Empire
1632 – 1635 – Occupied by Sweden during the 30 Year's War
1635 – King Louis XIII took the town under his protection
1648-78 – Annexed by France
1871-1919 – Annexed by Germany
1919-1938 – Annexed by France
1939-1945 – Annexed by Germany again
1945-Present – Back to France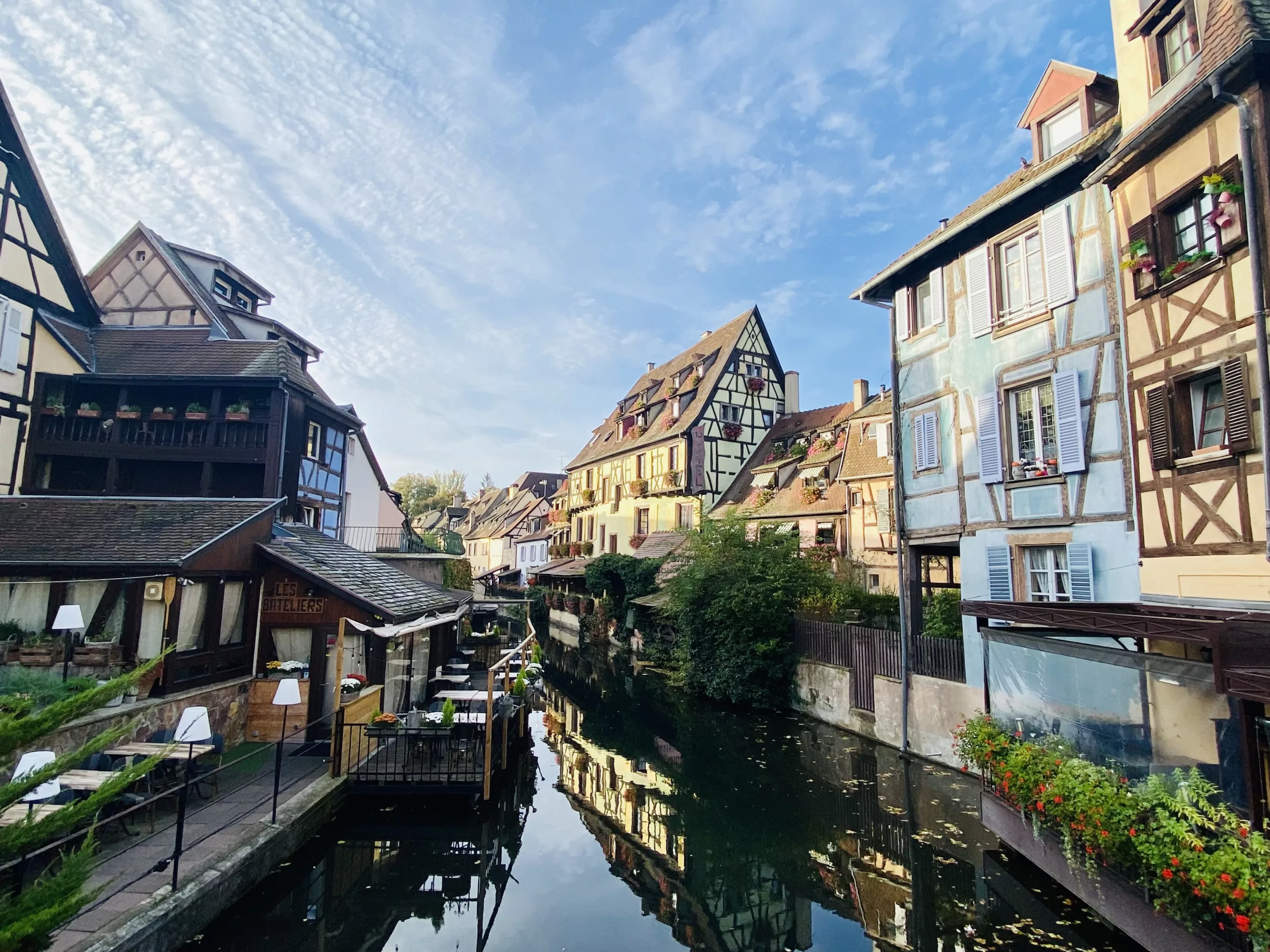 What Makes Colmar Special
In addition to it's charming Alsatian renaissance architecture, Colmar is famous for its museums, Alsatian cuisine, wine, churches and fountains.
It is the birthplace of the sculpture of the Statue of Liberty, Frédéric-Auguste Bartholdi, born in 1834. There is a Statue of Liberty museum and a replica of the statue just outside of the town.
The Musée d'Unterlinden, formerly a convent, houses the 16th-century Isenheim Altarpiece, the masterwork of the German religious painter, Matthias Grünewald.
Tips for Visiting Colmar
If you want to get good pictures and or/videos of the town, you'll need to do it between 8 and 10 in the morning. After that, the streets get VERY crowded with tourists. In the afternoon it is so crowded that its hard to even move around!
There are only a few restaurants in the town and they are often fully booked for dinner. I highly recommend making dinner reservations each night. Our favorite Alsatian restaurant was Chez Hansi.
We also loved taking a boat ride, and a reservation is highly recommended there as well. Colmar is called the "Little Venice" due to the canals that run through parts of the town. The tour guides share local history and tips. You can see us take a boat ride in the video – it's great for kids!
Our Recommendations for Lodging
We recommend staying in town if you can. The streets are very narrow and there is very little parking. The town is easy and so pleasant to walk within that it's really nice to be in the centre of it all.
For adults, you need only 1-2 days to see most everything, as the town is small. If you have children in town like we did, then you might need 3-4 days to see it all!
Famous Alsatian Foods in Colmar You MUST Try!
Alsatian food is a unique mix of German and French cuisines. We highly recommend visiting one of the authentic Alsatian restaurants. Not only will you love the cozy atmosphere and charm, the food is hearty comfort food. It's perfect after a long day of sightseeing!
Foie gras (invented in Strasburg in 1780)
Baeckaoffe (a dish composed of three types of marinated meat and potatoes in white wine)
Sauerkraut
Matelote du Rhin fish dish
Le Coq au Riesling (Chicken in a white wine sauce)
Pain d´Epices (spiced bread – similar to ginger bread)
Kougelhopf (sweet, bun-like speciality with raisin macerated in kirsch)
Munster cheese (really stinky, but delicious!)
Tarte Flambee
More about Tarte Flambée
Flammekueche (Alsatian, Standard German: Flammkuchen), or tarte flambée (French), is a specialty of the region of Alsace, german-speaking Moselle, Baden and the Palatinate. It is composed of bread dough rolled out very thinly in the shape of a rectangle or oval, which is covered with fromage blanc or crème fraîche, thin-sliced onions and lardons. It basically translates to "pie baked in flames."
History of Tarte Flambée and Flammeküche
The dish was created by Germanic farmers from Alsace, Baden and the Palatinate who used to bake bread once a week. It was a homemade dish that was not popular in restaurants until the 1960's.
A Flammeküche would be used to test the heat of their wood-fired ovens. At the peak of its temperature, the oven would also have the ideal conditions in which to bake a Flammeküche. The embers would be pushed aside to make room for the cake in the middle of the oven, and the intense heat would be able to bake it in 1 or 2 minutes. The crust that forms the border of the Flammekueche would be nearly burned by the flames.The result resembles a thin pizza. After the annexation of Alsace by France, the Flammekueche made its way as tarte flambée into French cuisine.
Variations of Tarte flambée
There are many variations of the original recipe in terms of the garniture. The standard variations are:
Gratinée: with added Gruyère cheese;
Forestière: with added mushrooms;
Munster: with added Munster cheese;
Sweet: dessert version with apples and cinnamon, or blueberries, and flambéed with Calvados or another sweet liqueur.
Like Hearing About Our Adventures?
Check out all of the blog posts I've written and videos we've recorded for YouTube. You can watch them from the beginning to the current day! You can also subscribe to my YouTube channel to get notified when a new video is posted.