Our First Long-Distance ICE Train Trip in Germany was a Bit Bumpy
Ride along with us as we take you on our first ICE train trip in Germany as a family of six! We hit some problems along the way and learned train travel in Europe is not always as glamorous as they like to make it seem in the movies.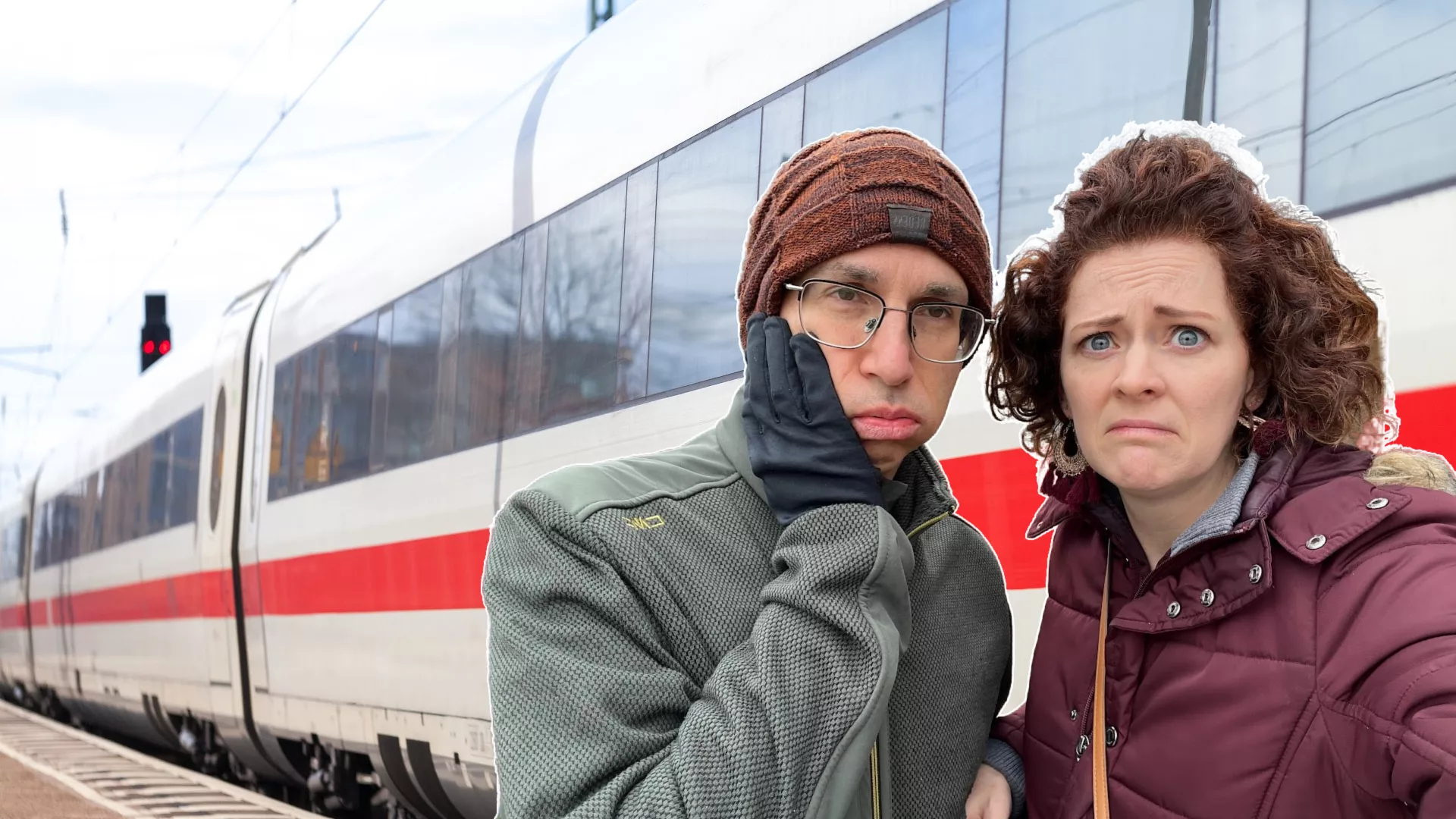 Our Experiences on an ICE Train Trip in Germany
Traveling with Many Kids is Much More Complicated
Traveling with many kids, especially younger ones, is challenging no matter which mode of transportation one uses. We avoided long train trips with our kids because we were worried about the luggage. It's difficult to help young kids get on and off the trains with their luggage and our own, then stow said luggage once on the trains, and then get it back down again when getting off. It can really be tiring for the parents!
Some of our subscribers said that Deutsche Bahn used to offer services where you could use Hermes to deliver your luggage to your destination so you wouldn't have to bring it on a trip. We will definitely look into this, as it would REALLY help us!
So we found it's really important to have fewer connections and pack as light as we can. Since Kevin and I sometimes have to help our kids carry their luggage, we have to really plan ahead to make sure we can carry it all.
Next time, we will try to pack even lighter than we did, though it will be a challenge! Children need their comfort items, especially on trips when things can feel scary or uncomfortable to them.
Making Reservations at Deutsche Bahn Online
We made our reservations three months in advance, which did help us to save money. On both the app and online, you can choose your seats IF you order for five people or less. For groups of six or more, it isn't possible to choose your seats online. (Why, DB, why?!) So our YouTube subscribers have recommended to us that we go to a local train station in person and order there, and they will be able to help us choose seats or a family cabin (Abteil) again. Some even suggested a travel agent, which is another great idea!
When we ordered online, we were not able to choose our seats. So we got lucky that for the first half of our trip to Cologne, we were in a family cabin and loved it! However, the air conditioning wasn't working, so they told us we had to leave and go into the regular seats. This was, of course, disappointing, but we made the best of it.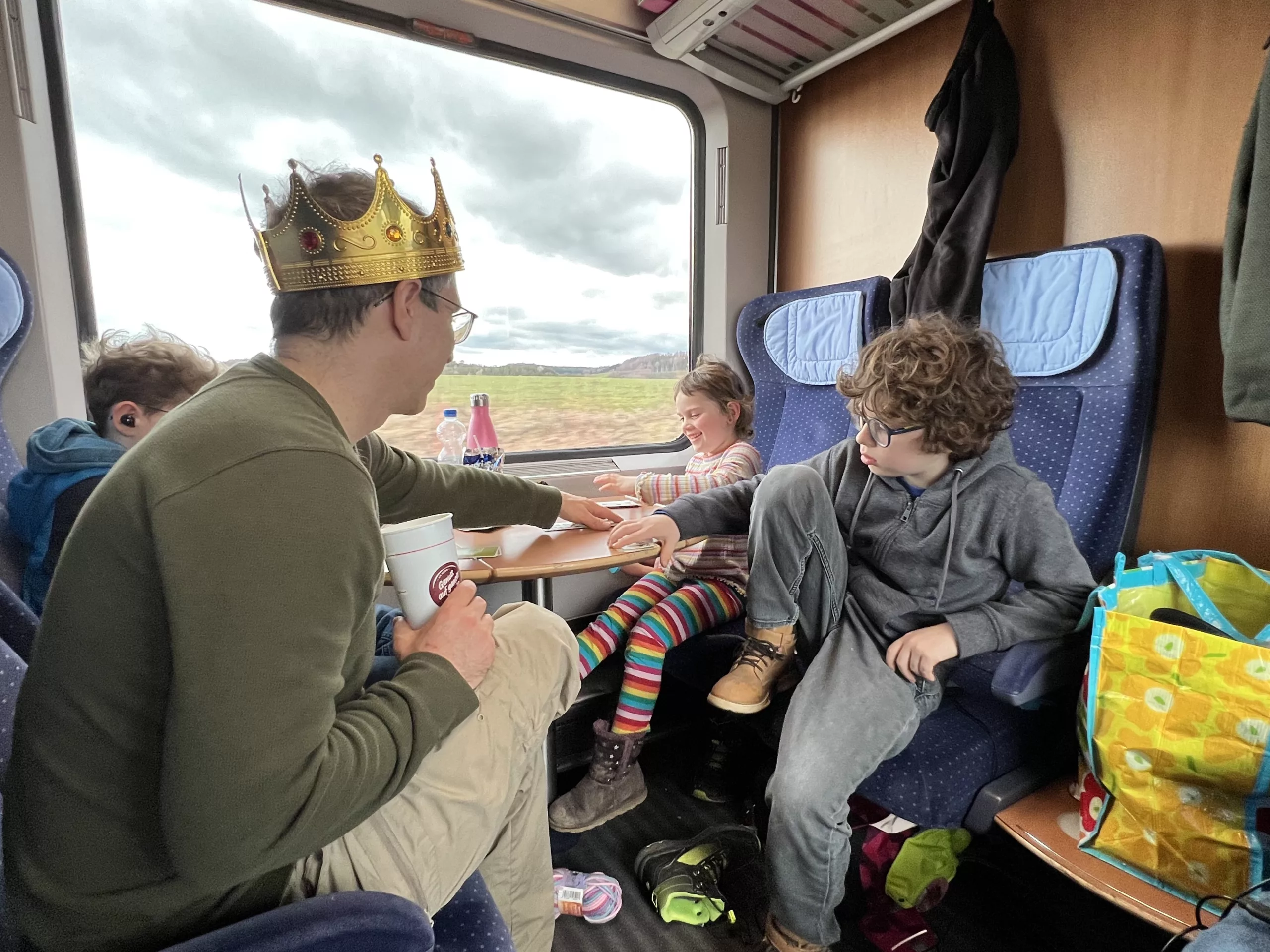 Our subscribers told us in the comments of the video that it's common for the air conditioning to break in trains, especially during the summer. Bummer!
Food on the Trains was Disappointing
Food is available on most of the IC and ICE trains in Germany. However, it is overpriced and not all that good. It is more affordable and tastier to get food from inside the train stations or bring your own food if you can. We did bring our own food, but the children ate ALL of it within a few hours, and we needed to purchase food on the train.
But…We Could Drink a Beer 🙂
On a brighter note, purchasing alcoholic beverages was an option, and we indulged in the luxury of sipping on beers while relaxing on the train. As parents, this proved to be an enjoyable and relaxing experience. Some of our subscribers even claimed to have spent hours hanging out in the bistro restaurant car, which provides ample space compared to the second-class seats. Although we concur that it is an excellent notion, it might not be ideal for families with children.
Would We Take an ICE Train Trip in Germany Again?
Yes! Definitely. We learned some valuable lessons on this trip that we want to apply to our next trip. For instance, we plan to purchase the tickets in person or use a travel agent so that we can choose our seats. We might try and bring more food next time, IF there is space in our luggage, and, if possible, pack even lighter.
All in all, it was a positive experience, and we learned a lot. We didn't have to worry about traffic, accidents, car problems, or motion sickness. Train travel is so much safer than car travel. Though we were lucky, there were no strikes or train delays, which can have the same effect as traffic on the Autobahn!
What Did Our Kids Think?
Our kids told us that they prefer to ride by train, even though they have to carry their luggage around. They like being able to get up and go to the toilets when they need to, walk to the bistro car, have no motion sickness, and have more space.