We Visited Herrenchiemsee Palace – one of Germany's Versailles!
We took a day trip to see Herrenchiemsee – a palace built by King Ludwig II on Lake Chiemsee to look like Versailles!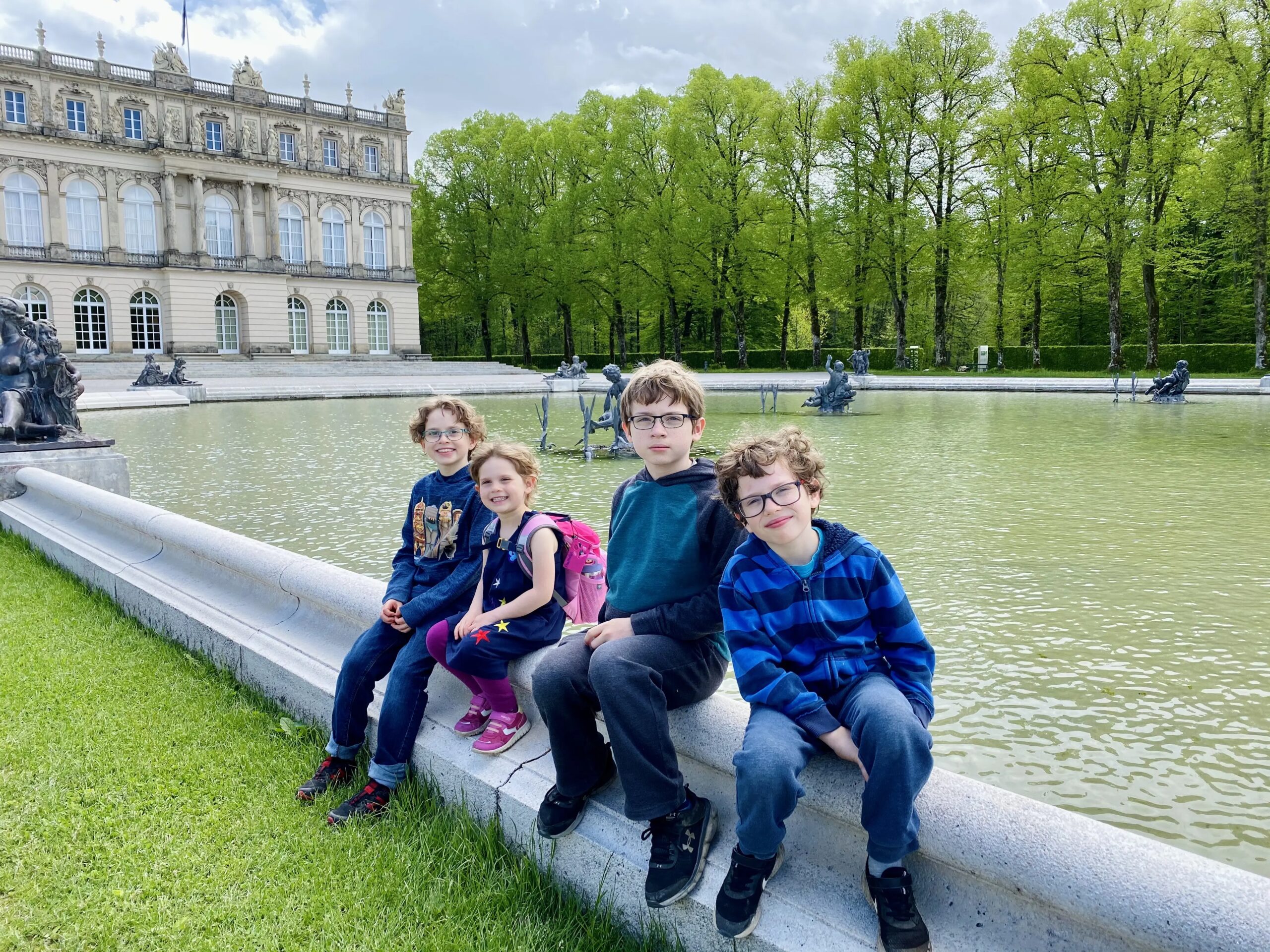 Herrenchiemsee – A Copy of Versailles in Germany!
We had SO much fun visiting Herrenchiemsee with our four kids! It's a very family friendly touristy spot. It is known as Germany's Versailles, though there is another copy of Versailles in Potsdam, Germany! So hopefully we can visit that one sometime soon, too. We had the palace gardens to ourselves, thanks to the pandemic. We weren't able to go inside, but the kids really enjoyed the gardens, fountains, ice cream, romping in the woods, the ferry ride, and just spending the day outside as a family. It was lovely and we hope you enjoy our video!
More about Herrenchiemsee
History and Construction
Herrenchiemsee is a palace located on the island of Herreninsel in the middle of Lake Chiemsee in Bavaria, Germany. It was commissioned by King Ludwig II of Bavaria in the late 19th century as a tribute to the French King Louis XIV and was intended to be a replica of the Palace of Versailles.
Construction of the palace began in 1878 and continued for more than two decades until Ludwig's death in 1886. The palace was not completed at the time of his death. It opened to the public as a museum in 1887.
Herrenchiemsee is a remarkable example of the architecture and interior design of the late 19th century. The palace is built in the Baroque style and features a number of ornate rooms and halls, including a grand staircase, a state bedroom, and an impressive Hall of Mirrors, modeled after the one in Versailles.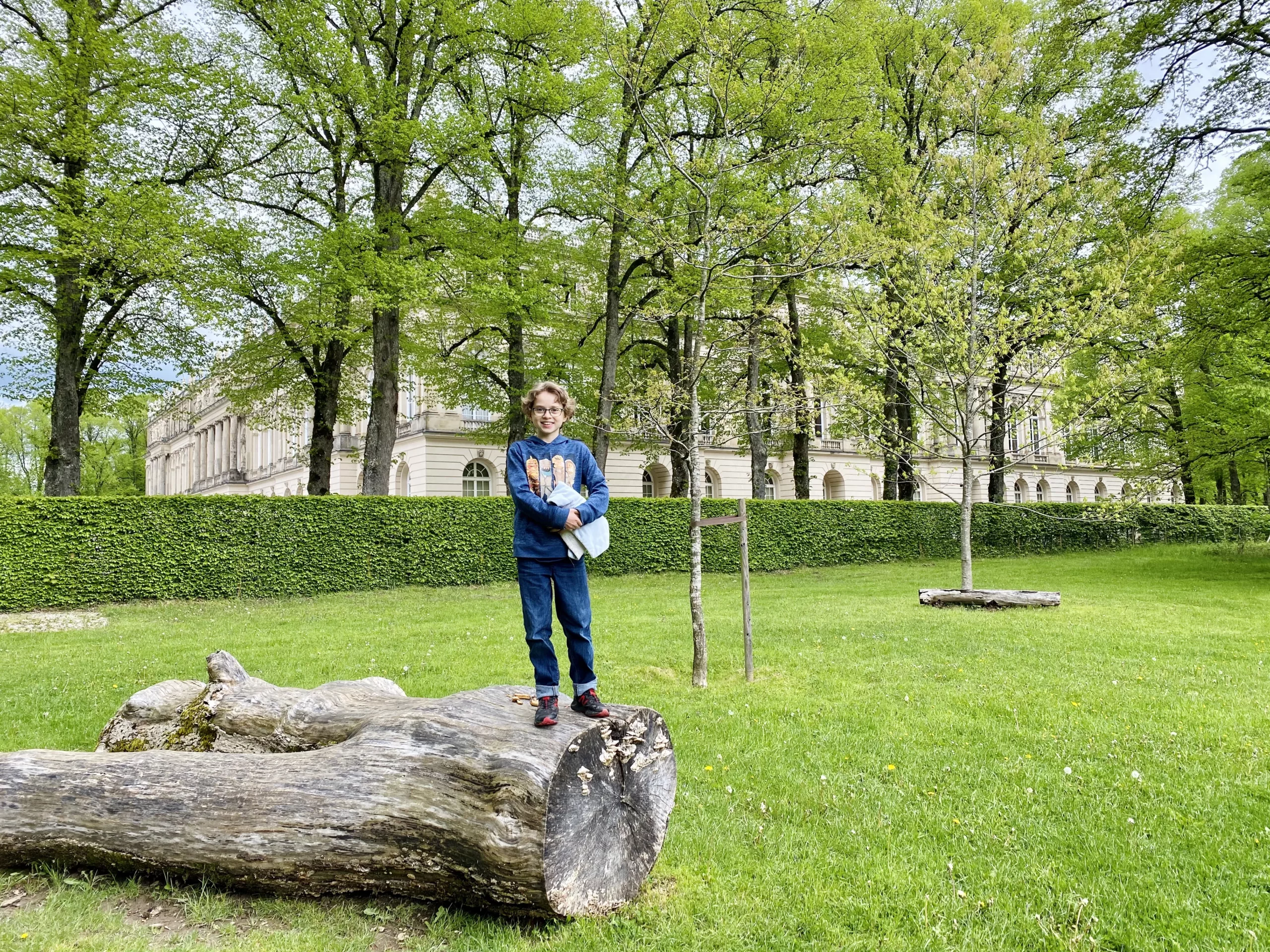 The palace also boasts an impressive collection of artwork and furnishings, including original pieces from the French court. Many of the rooms are adorned with lavish decorations, including intricate frescoes and elaborate stucco work.
In addition to the palace, Herrenchiemsee also includes a large park and several other buildings, including a music pavilion and a royal stable. It is a bit of a walk from the ferry to the palace, so wear comfortable shoes. Come prepared for any kind of weather as it can change quickly here, from sun to rain and warm to chilly!
Ludwig used Herrenchiemsee for a few brief periods before his death. Despite is grandeur, the palace was never completed according to his original plans. However, it remains an important cultural landmark in Bavaria and thousands of tourists visit it each year.
We were not able to visit the inside, as it was still during COVID times. We were happy enough that we were allowed to ride the ferry and even see the gardens!
Like Hearing About Our Adventures?
Check out all of the blog posts I've written and videos we've recorded for YouTube. You can watch them from the beginning to the current day! Subscribe to my YouTube channel to get notified when a new video is posted.