Travel to Beautiful Lake Chiemsee – The Bavarian Sea
We took a fun day trip to see Lake Chiemsee and went mini-golfing with friends. When traveling in Germany, we can highly recommend visiting this huge and beautiful lake that has a gorgeous view of the Alps!
Traveling to Lake Chiemsee in Bavaria, Germany
Come along with us as we spend a day in one of Bavaria, Germany's most famous lakes – Chiemsee! We first go mini golfing in Bernau, and chose it because it has a playground right beside it – perfect for families! Then after mini golfing, we ate lunch and hung out at the Chiemsee pier. The views were BREATHTAKING! Sailboats, the blue water, and a panoramic view of the Alps. If you're traveling in Southern Germany, Chiemsee is a must-see. You can take a ferry to see Herrenchiemsee, a palace built to look like Versailles by King Ludwig II. There are numerous biking and walking paths, swimming beaches, boats you can rent, and more.
More about Chiemsee, the Largest Lake in Bavaria
Lake Chiemsee is the largest lake in Bavaria, Germany, and is located in the southeastern part of the state. It covers an area of approximately 80 square kilometers (31 square miles) and is known for its scenic beauty and recreational opportunities.
The lake is surrounded by several small towns and villages, including Prien am Chiemsee, Gstadt am Chiemsee, and Chieming. These towns offer a variety of activities for visitors, including water sports, hiking, cycling, shopping and sightseeing.
Herreninsel and Herrenchiemsee Palace
One of the main attractions on Lake Chiemsee is the Herreninsel, a small island located in the middle of the lake. The island is home to the Herrenchiemsee Palace, which was built by King Ludwig II of Bavaria in the late 19th century as a replica of the Palace of Versailles. We also visited this palace, and wrote about it here.
Fraueninsel
Another popular attraction on Lake Chiemsee is the Fraueninsel, a small island located on the eastern side of the lake. The island is home to a Benedictine monastery, which was founded in the 8th century and is still in use today. Visitors can explore the monastery and its gardens, as well as enjoy the island's picturesque scenery and traditional Bavarian architecture.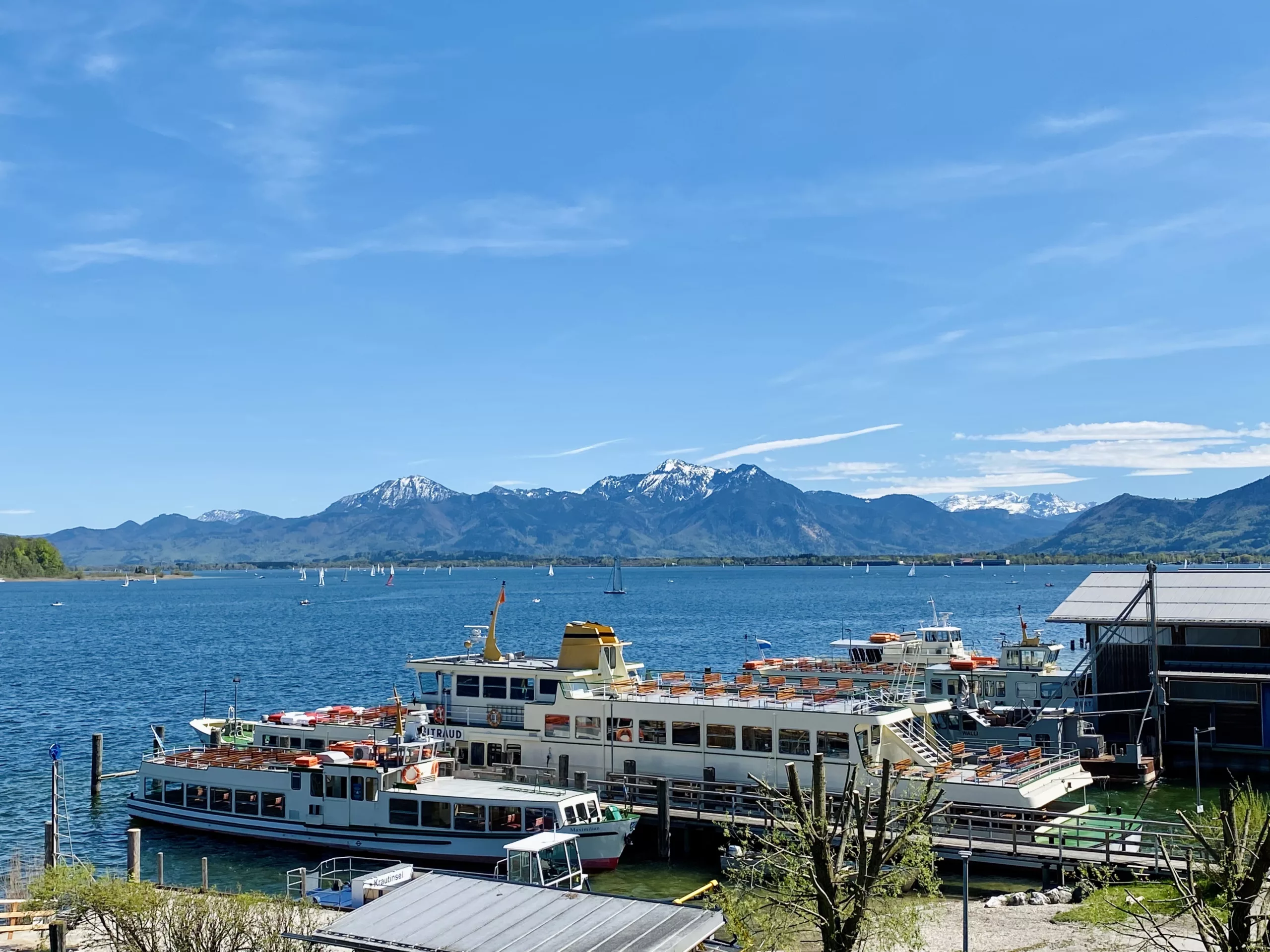 Lake Chiemsee is also a popular destination for water sports enthusiasts. Sailing, windsurfing, and fishing are all popular activities on the lake, and several local companies offer boat rentals and tours. They also have bicycle paths that go all around the lake, beaches with sand for summer swimming, campgrounds, hotels and spas, and more!
Lake Chiemsee is a beautiful and diverse destination that offers something for everyone. Its stunning natural scenery, rich cultural heritage, and wide range of recreational activities make it a must-visit location in Bavaria.