Skiing in Austria is Underrated – Why It's Worth Checking Out!
After having several vacations in Austria, we can highly recommend trips there in any season. We can confidently say we LOVE skiing in Austria and their Kinderhotels, and here's why! When many people think of European skiing, they often think of Switzerland first. And while it is amazing to ski there, it's also quite pricey, especially for families. We have found Austria to be more affordable and more relaxed.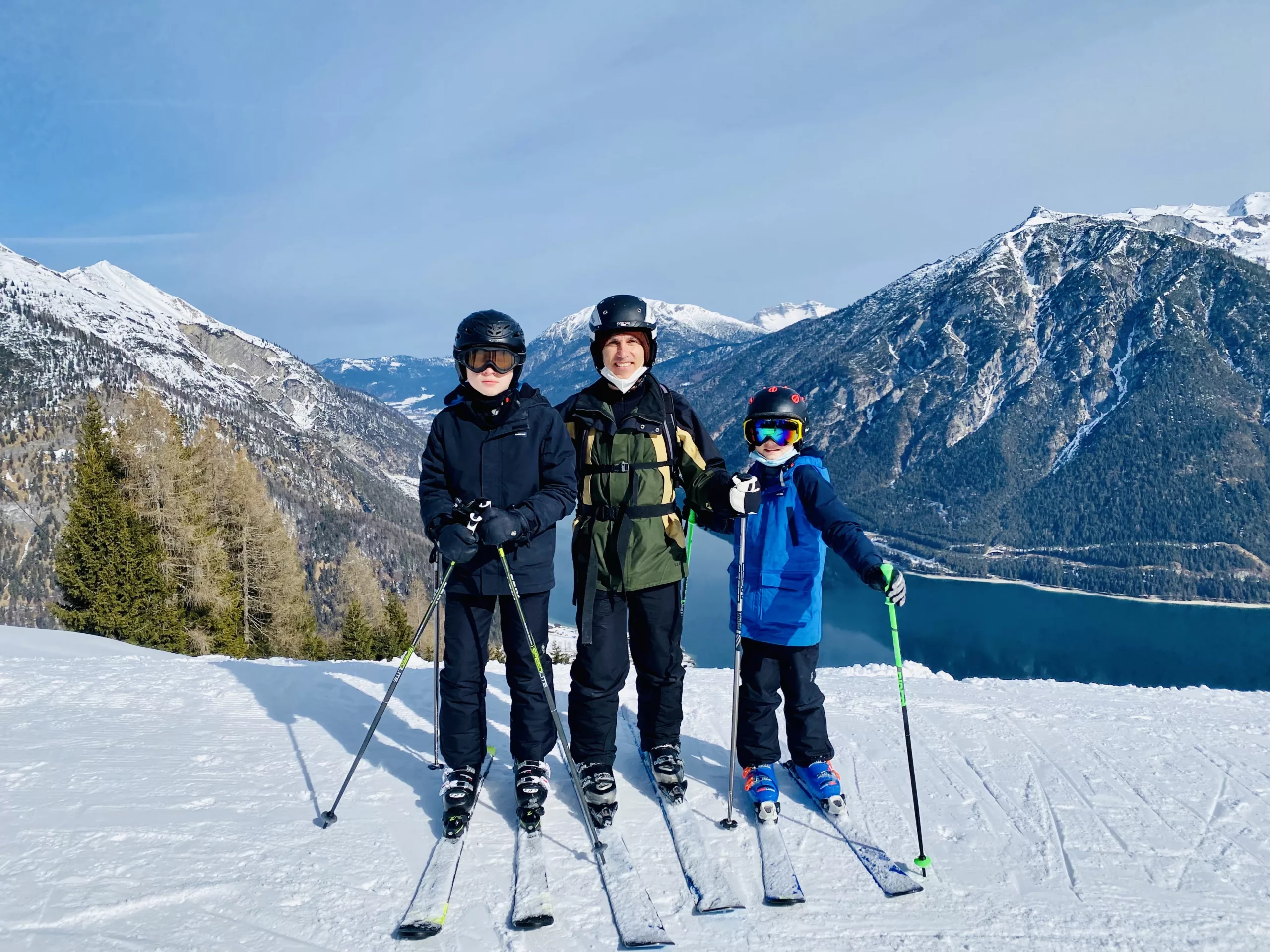 Parents Also Get a Vacation in Kinderhotels!
As parents, vacations aren't really that relaxing. We still have to plan, prepare meals, and take care of the children. But when you go to a Kinderhotel or Familenhotel here in Europe, there's no cooking, cleaning, grocery shopping, or meal planning! And, you can also have child care. It's a vacation for both the kids and the adults!
We got to try out our second Kinderhotel, again in Austria, but this time, in Achensee, which is near Innsbruck. We really enjoyed going horseback riding, rock climbing, skiing, swimming, and doing some archery. Us parents enjoyed the sauna, steam room, and massages. To learn more about Kinderhotels and why we highly recommend them for families, see this post where we did a summer trip to Galtür, Austria.
Why Skiing in Austria is Underrated and More Affordable than in Switzerland
Skiing in Austria can be a more cost-effective and enjoyable option than skiing in Switzerland for several reasons. Firstly, Austria offers a wider range of skiing options for all levels of skiers, from beginner to expert. The country boasts a vast network of ski resorts that cater to different budgets, ranging from the affordable family-friendly resorts to luxurious and high-end ski destinations.
In comparison, Switzerland's ski resorts tend to be more expensive and geared towards the high-end market. The cost of lift tickets, accommodation, and dining can add up quickly, making it a less affordable option for many skiers.
Another reason why skiing in Austria can be more fun is the country's famed après-ski scene. Austrian ski resorts are renowned for their lively and energetic après-ski activities, such as traditional alpine music, dancing, and partying. In contrast, Switzerland's après-ski scene tends to be more subdued and formal, catering more to the high-end clientele.
In addition, Austria's ski resorts tend to be more accessible, with many located close to major cities and airports, making it easy for skiers to get there. Switzerland's ski resorts, on the other hand, tend to be more remote and challenging to reach, requiring more time and money to get there.
In summary, skiing in Austria can be less expensive and more fun than skiing in Switzerland due to the wider range of ski resorts catering to different budgets, a more lively après-ski scene, and easier accessibility.
What We Look for When Traveling with Our Kids
In order for us as parents to enjoy the vacation as well, we love to find hotels that have full-board. This is, of course, more expensive, but many Austrian hotels also offer half-board. Full-board means they serve you three meals a day. In Kinderhotels and Familienhotels, they also offer afternoon Kaffee and Kuchen, or coffee and cakes! You can literally eat ALL DAY LONG at these hotels! It's a great option for hungry kids.
What's great about nearly all ski resorts in this region is they offer some type of wellness area, like a small pool, sauna, steam room, and/or massages. We love to take advantage of the sauna after a long day of skiing!